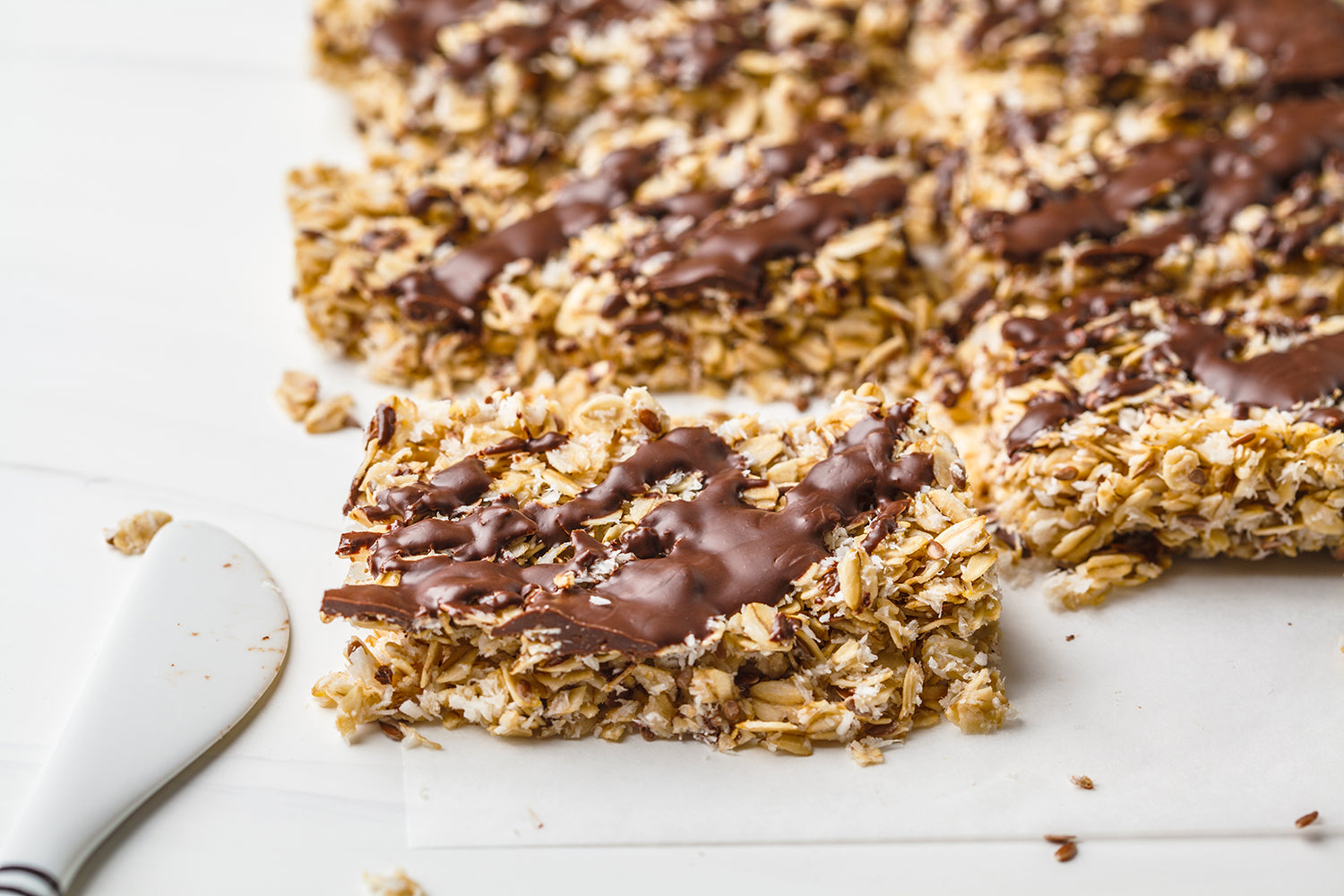 Ingredients7 Prep Time 5minutes Cook Time10minutes Total Time15minutes
Ingredients  (24 bites)
3/4 cup uncooked oatmeal
60g unflavored protein powder
1/2 teaspoon cinnamon (optional)
14 (263g) pitted dates
1 measured cup (16 tablespoons) almond butter (with oil)
1 teaspoon vanilla extract
5oz no-sugar added dark chocolate baking bar with Stevia (I used Lily's brand)
Instructions
Add oatmeal, protein and cinnamon to a food processor or high powered blender.  Blend until you have a fine powder like flour.
Add the pitted dates, nut butter and extract.
Pulse blend until you have a sticky, chunky mixture.
Scoop out the batter onto a baking tray lined with parchment paper.  
Spread it evenly on the sheet and pat/mash it down so it is packed in. 
Place in the freezer as you prepare the chocolate.
Place chocolate bar (or chunks) in a microwaveable safe bowl and microwave for 1 to 2 minutes until melted.
Remove the tray from the freezer and evenly spread the melted chocolate on top of the oat & protein mix.
Place in the freezer for 1 hour (or fridge for 2 hours), then remove and cut into your desired portions. 
 Store in an airtight container in the fridge for 2 weeks or freezer for 1 month.
Notes
I used collagen peptide protein.  I highly recommend using it OR substituting with an isolate whey protein.  Depending on which type of protein powder you use, you may need more/less dates for sweetness and to help with binding, OR you may need more/less nut butter.  The thicker the protein powder is, the more dates and nut butter you will need to add in order to make it dense like a bar.
You can also use vanilla or chocolate flavored protein powder

I soaked my dates in water for 5 minutes before blending in order to soften them and make them easier to blend. 

The smaller the tray, the thicker (higher) your bars will be, so select the size that coincides with your desired thickness. 
https://www.yummly.com/recipe/Chocolate-Oatmeal-Energy-Bars-2585224#directions
---