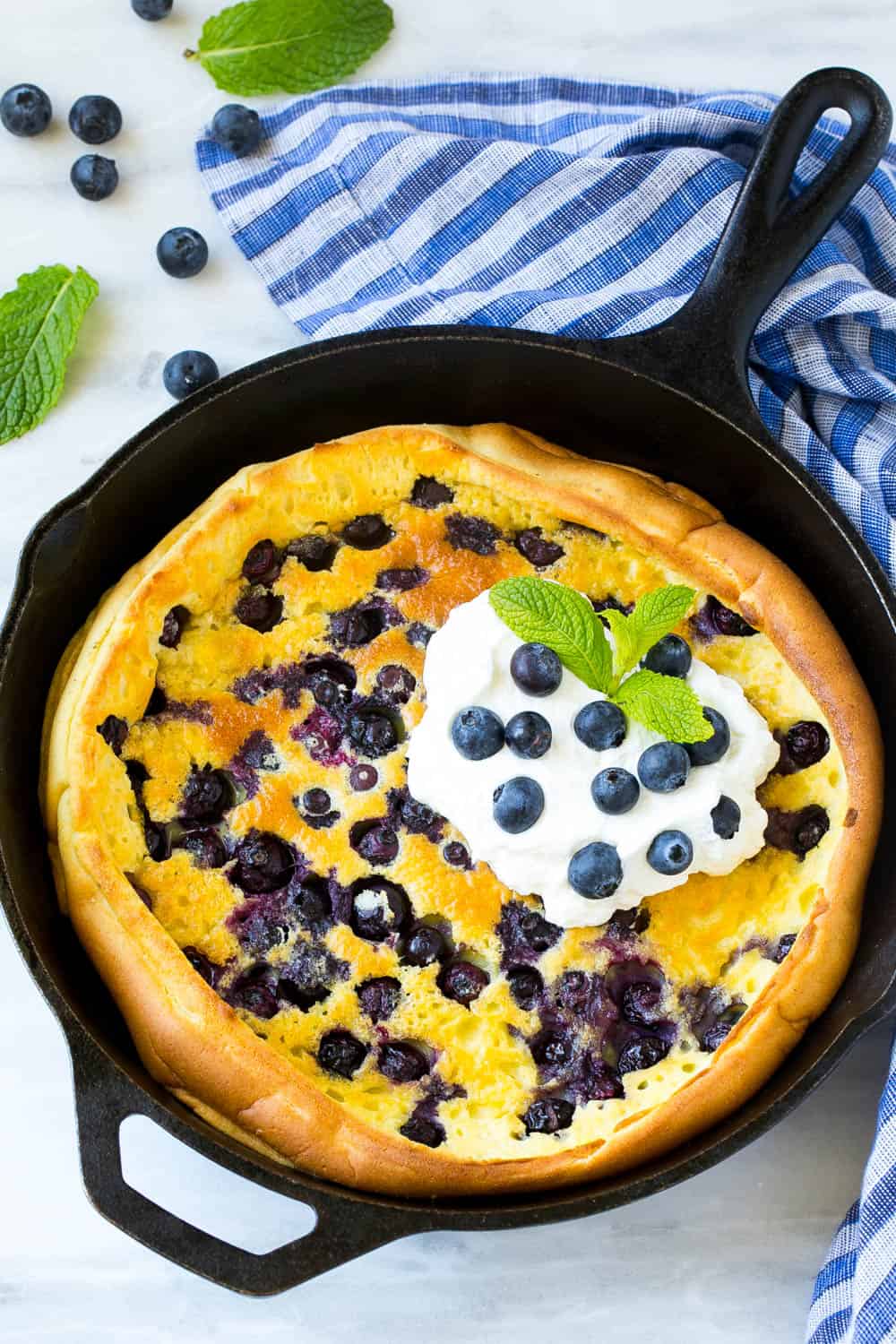 An easy skillet pancake that's studded with fresh blueberries.
Prep Time10 minutes Cook Time20 minutes Total Time30 minutes Servings6 Calories238kcal
Ingredients
4 Eggs
2/3 Cup Whole wheat flour
1 Cup Skim milk
2 Scoops Whey Protein
1/4 Cup Granulated low-calorie sweetener
2 Tbsp Coconut oil
1 Cup Blueberries plus more for topping
½ Cup Vanilla Greek yogurt or coconut whipped cream
Instructions
Preheat the oven to 400 degrees
Place the eggs, flour, milk, protein powder and sweetener in a blender and blend until smooth.
Heat a 9 or 10-inch skillet on the stove over medium, add the coconut oil to the pan and cook until melted.
Pour the batter into the pan. Sprinkle the blueberries over the batter.
Place the pan in the oven and bake for 20 minutes or until puffed and edges are golden brown.
Cool for 5 minutes then cut into wedges and serve, topped with Greek yogurt and additional blueberries.
Notes
Make-Ahead Pancake Batter.  Make the protein pancake batter and store in an air-tight container. Then, when ready to cook during the week, cook as you would on the stove to have freshly made pancakes.  The batter will last up to 4-6 days in the fridge.
You can leave out the protein but make sure you add in more flour.
Make sure you use a skillet or oven safe pan.
Top pancakes with fresh blueberries and Greek yogurt or whipped coconut cream.
Nutrition
Calories: 238kcal | Carbohydrates: 27g | Protein: 13g | Fat: 9g | Saturated Fat: 5g | Cholesterol: 112mg | Sodium: 97mg | Potassium: 301mg | Fiber: 2g | Sugar: 14g | Vitamin A: 505IU | Vitamin C: 5.4mg | Calcium: 121mg | Iron: 1.9mg
https://healthyfitnessmeals.com/blueberry-puffed-protein-pancake/
---