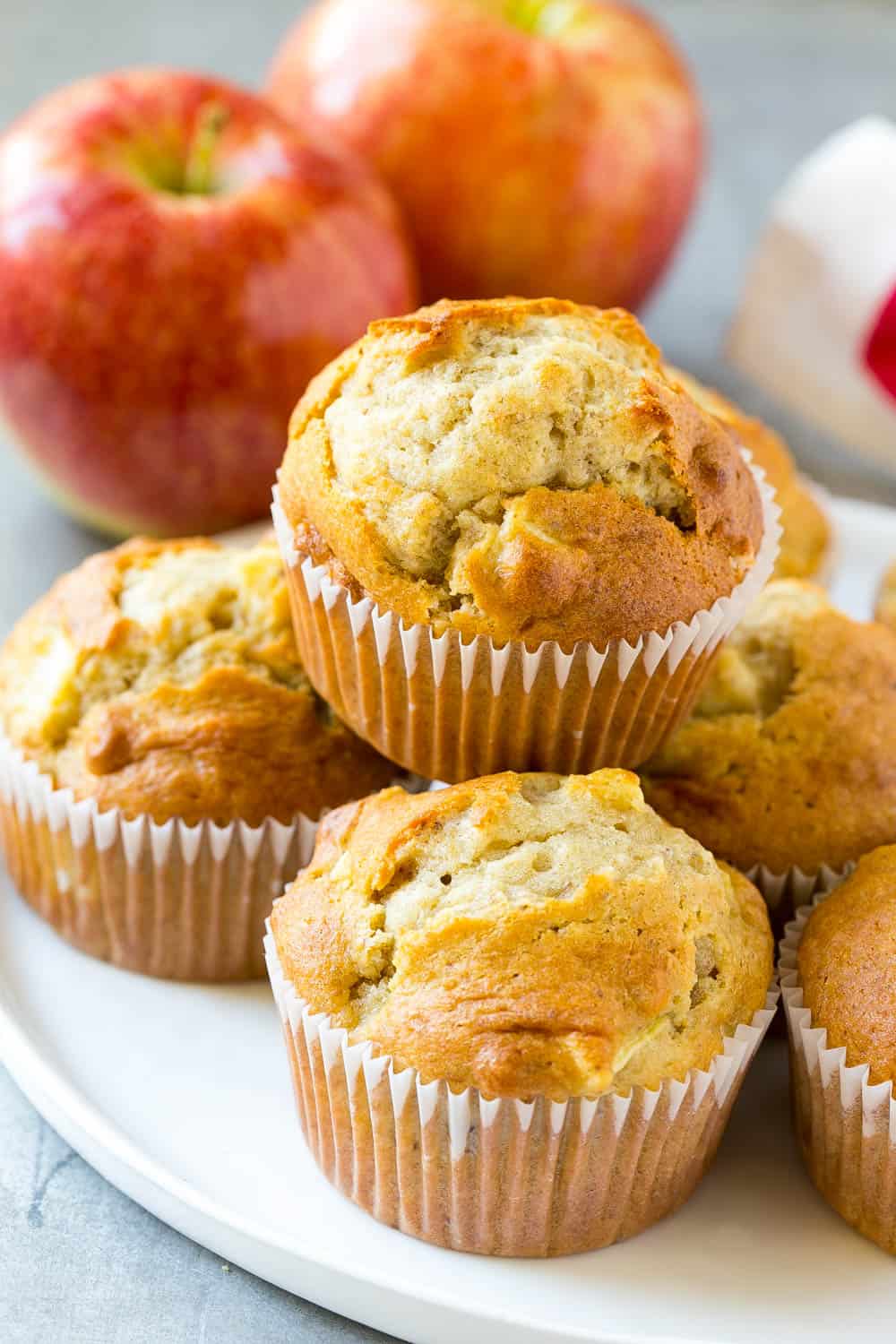 Prep Time15 minutes Cook Time20 minutes Total Time35 minutes Servings12 Servings Calories156kcal
Ingredients
2 Cups white Whole wheat flour or whole wheat pastry flour
1 Tsp Baking powder
1 Tsp Baking soda
1 Scoop vanilla flavor protein 
1 Egg
1 Tsp Cinnamon
1/2 Cup Coconut sugar or low-calorie sweetener equivalent
1 5.3 oz Container vanilla or plain Greek yogurt
1 Tsp Vanilla
2 Tbsp Coconut oil Melted
1 Cup Unsweetened almond or coconut milk
1 ½ Cups Apples peeled and diced
1/3 Cup Walnuts Chopped
Instructions
Preheat oven to 350 degrees.
In a medium bowl combine flour, baking powder, baking soda, protein powder, and cinnamon. Stir until the ingredients are evenly combined.
In another medium bowl, mix the egg and sugar. Then stir in the Greek yogurt, vanilla extract, coconut oil, and almond milk.
Add the wet ingredients into the dry ingredients. Stir until all the ingredients are just combined - do not over mix.
Fold in the apples and walnuts.
Spray a 12 cup muffin pan with cooking spray or line the pan with paper muffin liners. Divide the batter among the 12 cups.
Bake for 18 - 20 minutes or until a toothpick inserted into a muffin comes out clean. Cool in pan for 3 minutes then finish cooling on a wire rack.
Nutrition
Calories: 156kcal | Carbohydrates: 23g | Protein: 4g | Fat: 5g | Saturated Fat: 2g | Cholesterol: 14mg | Sodium: 157mg | Potassium: 172mg | Fiber: 3g | Sugar: 6g | Vitamin A: 75IU | Vitamin C: 1.3mg | Calcium: 68mg | Iron: 1.1mg
https://healthyfitnessmeals.com/apple-cinnamon-muffins
---